Serene Air Conditioner – The Best Split System Air Conditioning in Perth
As Perth's premium supplier and installer of split system air conditioning, Infiniti Air & Solar is proud to offer you the very best of this type of aircon technology. Alongside a 10-year warranty on installation and workmanship, our team provides can provide you with a free quote within 48 hours.
So if you are searching for the best split system air conditioning for your home or business, let us be of help. Our split system air conditioning system delivers a comfortable, warm and cosy experience to every homeowner in Perth during winter, while bringing complete freshness all day and night long over summer.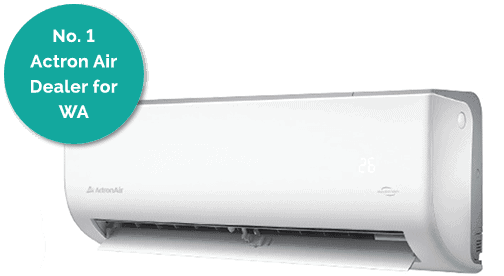 Key Benefits of the Actron Air Serene Split System Air Conditioner
Do you need split system for a room in your home? Are you perhaps unsure of where to start? We get it. There are a lot of choices out there. A lot of noise. Introducing Actron Serene, the split system air conditioning that we know will make your life easier. Here's why:
Looks Great
It goes without saying that this is a good-looking split system air conditioning unit. The Actron Air Serene is all about sleek, clean lines that won't visually impose on your living spaces.
Simplicity
Unlike other split system aircons where the on/off switch is enclosed and hard to access, the Actron Serene's on/off switch is easy to access should your remote go missing. It's just another way this split system air conditioning model has been built to make your life easier.
Quick Results
Turbo Zone Mode means you can quickly achieve your desired temperature. It's perfect for those freezing cold nights when you just want to get warm fast – or for Perth's hot summer days when you want to cool down in a hurry.
Integrated LED Display
The LED display is integrated seamlessly into the front panel of the unit. It enables bright, easy-to-read settings for when it is needed and discreetly disappears when it is not required.
Air Flow Control
Control precisely where the air flows – whether it's up or down, left or right or in swing mode. You can set it all from your Actron Serene controller.
Built to Last
The indoor and outdoor coils are coated with epoxy corrosion protection which means your split system air conditioner will last longer. The coating also assists with the defrosting process, enabling the system to heat up faster and more efficiently on those frosty Perth mornings.
Fan Speed Precision
With 12 fan speeds to choose from, you get more precise control over the air flow into your room. Set it manually or allow the system to set it. The outdoor split system air conditioning unit has up to 5 speeds which allows for greater noise reduction and energy efficiency.
Filter
The system's filter removes up to 99% of air particles such as dust and pollen. It also contains bio enzymes which reduce mould, fungi and bacteria in the air. Your home will thank you for it.
Lower Maintenance
When set to the auto clean function, the Actron Serene has an automated four-stage cleaning process which removes dust and mould built up in the system.
Power Cycle Memory
After a power blackout, the Actron Serene recalls previously programmed settings when the power returns. Yet another super handy feature that many other split system air conditioners simply do not have.
FREE Report: 5 Things You Must Know Before Purchasing an AC Unit in Perth
Get more information on our Actron Serene split system air conditioning in Perth